Learn Spanish with this Reader for Beginners (Spanish Short Stories)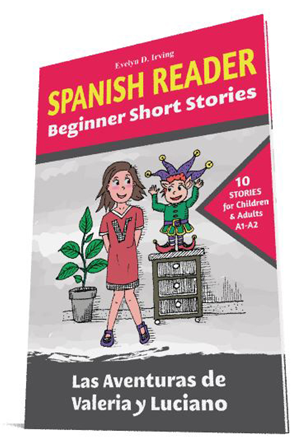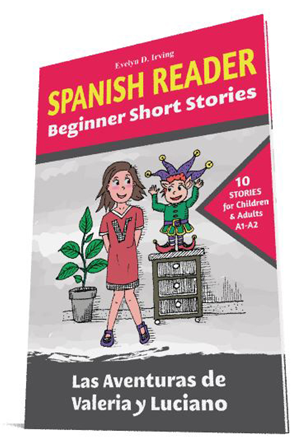 Today we would like to tell you about a handy new book we found for people learning Spanish who are searching for a bilingual story book. This book, SPANISH READER Beginner Short Stories: 10 stories in Spanish for children & adults level A1 to A2, has been written  by children's author Evelyn D. Irving and will be very helpful for you if you if you intend to learn Spanish in a fun way. This is the best Spanish Reader for kids and adults we were able to find, because it was an entertaining read and educative at the same time.
The book contains ten short stories in Spanish for children & adults who are starting to learn Spanish, and it's the first one from the collection Las Aventuras de Valeria y Luciano by Evelyn Irving, a bilingual author who has taught Spanish and English in two countries.
Valeria and Luciano are an eleven-year-old schoolgirl who is spending some time in the USA with her family and a little invisible elf who loves to play pranks. This book contains ten readers about Valeria while living in the USA.
If you are going on an exchange or traveling during the holidays, I would recommend you to read this book it before you start your trip, because it will teach you lots of useful vocabulary you are going to need while you are abroad. If you are traveling with kids, or you are preparing an international move or vacation with kids, this is a perfect reader book to entertain your children and help then learn Spanish with ease.
For us it was a pleasant read and we also found out there are other titles from the same author aimed at smaller kids. She has published a few unicorn coloring books (Cheerful Unicorn Books), and a few Bilingual Unicorn Coloring Books, as far as we know they are available in English-German and English-Spanish. They are all great tools for those of you traveling to Germany, Austria, Spain, Mexico, etc., to prepare for an exam or to refresh what you already know.
If you are interested in getting this Spanish Reader about Valeria and Luciano you can find them on Amazon or check out the website of the author and her facebook page. The title of the book is Spanish Reader- Beginner Short Stories – Las Aventuras de Valeria y Luciano, by children's author Evelyn D. Irving. Please tell us if you read any of them and whether you enjoyed them!