Looking For A Preschool In Singapore: 4 Questions Parents Should Ask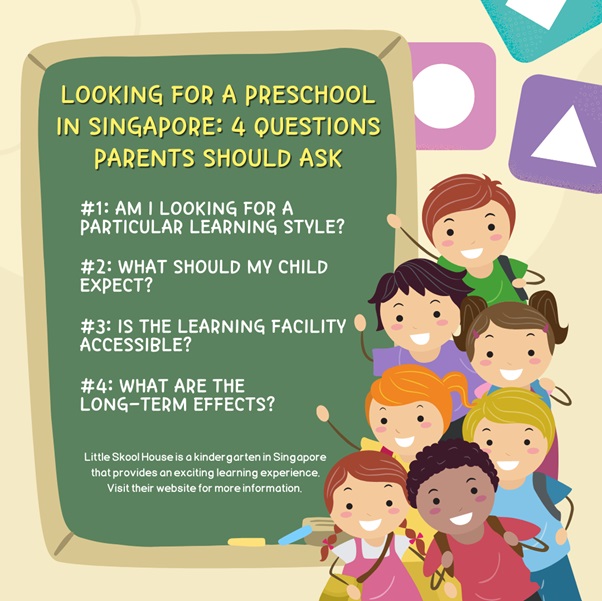 Looking for a preschool in Singapore should be easy for most parents. However, they often overlook some crucial points or fail to realise that considering some factors is essential. In this article, let us put a premium on questions, and explore what parents should ask before deciding on the learning facility of their choice:
#1: AM I LOOKING FOR A PARTICULAR LEARNING STYLE?
Some parents have preferences on the learning style, while others do not care and are amenable to the basic one. However, you might want to ask this question because what if the kindergarten in Singapore that you are about to trust does not match your child's needs? You have to consider these things at all costs.
#2: WHAT SHOULD MY CHILD EXPECT?
Yes. We are talking about what the child can expect, and not the parent because it is their educational journey. Ask this question to know whether your child will enjoy their time at the preschool in Pasir Ris because you want them to have the best learning experience.
#3: IS THE LEARNING FACILITY ACCESSIBLE?
Whether you are driving a car, taking public transport, or walking a few blocks, accessibility should be one of your top concerns. For instance, you will narrow your choices by looking only at infant care centres in Pasir Ris because you do not want to take your baby far from home. Not to mention, you can easily go there just in case.
#4: WHAT ARE THE LONG-TERM EFFECTS?
Your child will graduate from preschool in Singapore and continue with their learning and education as they grow older. With this, consider the long-term effects or the things they experience in the learning facility. It should align with your goals as a parent.
Little Skool House is a kindergarten in Singapore that provides an exciting learning experience. Visit their website for more information.